Suomi Hills - The Setting of the Suomi Hills semi-primitive, non-motorized area is made up of the most spectacular fall color in this area. There is abundance of rolling hills, 21 miles of trail, biking, hiking cross country skiing. Suomi Hills is located about 9 miles north of Pine Acres Resort on Scenic By-way Hwy 38.
Trout Lake & Joyce Estates - This non-motorized area offers 6,000 acres of forest with shoreline on 11 area lakes. There is ten miles of old trails and roads that provide breath taking views for the hiker, the hunter, and the skier. Visitors can view the rustic log characteristics of the Adirondack tradition that started in the early 1900's as well as tour the grounds. Joyce Estates is located 8 miles north of Pine Acres Resort
Dog Sledding - Dress warm for this activity. The musher, Joel Kersting, has over ten years of experience with a powerful team of Alaskan Huskies.He also allows hands-on training for those willing to learn to mush a team of their own. Imagine the tranquility...the only sounds you hear is the crunching of snow, a creaking pine, a command from the musher, or the breathing of the dogs. The trip is approx. 1 hour long. For more information, contact Suomi Hills Kennel, Grand Rapids. (218) 244-1265 or (800) 620-1265.
Bird Counting - The Christmas Bird Count is the longest running ornithological database. All counts are open to birders of all skill levels. Join this years count. For more information, contact Ken Zimmer (218) 327-0911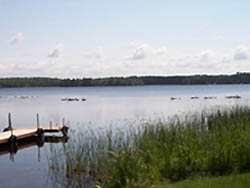 The Grand Rapids area offers some of the finest hunting and fishing in Minnesota. Good habitat, well-managed and abundant public land and waters, along with a community known for its hospitality makes for a desirable location for the serious outdoors enthusiast. Pine Acres Resort is located on beautiful Prairie Lake, just 5 miles north of Grand Rapids on Minnesota State Highway 38, the Edge of the Wilderness National Scenic Byway.